The animation industry truly began it's "revolution" in the late 1960s when more and more animated films were produced and released in the public. You'd think it would be the "Walt-Era" when Disney films were being released as the years went by but so many other companies besides Disney were keeping up as well. Regardless, many people found opportunity to find jobs in the animation industry.
June 22nd 1935 in Santa Barbara, California was the day the first African-American animator was born. His name is Floyd Norman. Currently 86 years old but still very active in the animation industry. What made him join the industry was him watching old Disney movie classics such as Bambi & Dumbo. Early in his career he started as an inbetweener or also known as"Tweenening" animator. This means when an animator adds frames so the final animation is more "smooth" and fluid. Eventually he moved on to work as key animator for notable motion pictures such as Disney's Sleeping Beauty & Disney's One Hundred and One Dalmatians. He may have been an animator of color but he like many others had to start somewhere in the early and every growing industry.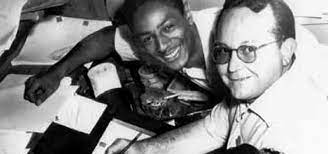 Another few examples of African Americans in the animation industry are Frank Braxton who has done key animation for a handful of Charlie brown TV specials and LeSean Thomas who at first started off as an animator, in later years has opened his own animation studio in the eastern countries and created/produced & directed a handful of original anime series such as Cannon Busters & Yasuke. These men of African American decent have made their mark on the animation industry no matter the genre.
To learn more of these men, I will provide the link to their respective Wikipedia pages.
https://en.wikipedia.org/wiki/Golden_age_of_American_animation
https://en.wikipedia.org/wiki/Floyd_Norman
https://en.wikipedia.org/wiki/Frank_Braxton
https://en.wikipedia.org/wiki/LeSean_Thomas
Although this country has a history of discrimination of races, these men did not falter to achieve their careers in animation and till this day continued to produced more works. I encourage the younger generation to study these gentlemen to become an animator and maybe eventually produce original animation works. Springboard Incubators can help.
We are hiring animators/art teachers with extensive experience in the animation industry to teach those who want to join in it. As for students, all ages can sign up for classes, one on one or groups. Please contact us at at [email protected] or 516.414.2000. Our Business hours are 9 A.M. to 5 P.M. Thanks for reading.
By Brandon Lindo